NOTE: TO SEE THE ORIGINAL COLUMN ON THE ARGO WEBSITE, CLICK ON THE PHOTO BELOW.
Friday night, at Edmonton's Commonwealth Stadium, the Toronto Argonauts will stare into the teeth of what seems a familiar monster.
A Rich Stubler defence.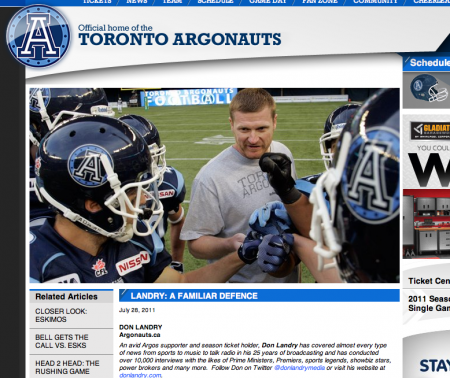 The Eskimos are riding the crest of a 4 and oh start and, while that streak has been crafted in large part by a fairly potent offence, it's Stubler's trademark bend but don't break (actually, it could be referred to as a bend, then bend again, then bend a bit more but don't break) defence that has really turned heads. In four wins, the Eskimos have given up nearly 1500 yards of offence, yet merely 74 points. It's a story Toronto football fans have seen before.
Stubler worked minor miracles while employed as the Argos' Defensive Coordinator from 2003 to 2007, and earned a reputation as a bit of an evil genius (well, evil to opposing offences) with his penchant for befuddling quarterbacks and offensive coordinators around the league.
His defences are like cotton candy for opponents. Yes, they gobble up plenty of yards and it sure tastes sweet, but in the end, it's just empty calories.
How then, to decipher the code of the evil defensive genius' brain?
I know. With the burgeoning evil genius brain of another who was trained by Stubler, that's how. Argo Special Teams Coach Mike O'Shea. O'Shea certainly qualifies as a mad football scientist, already having a fake conceded safety and a myriad of other fake punt schemes on his resume. And he was at the centre of Stubler's perplexing Argo defences, too. So, he'd be good to size up what the Eskimos have done over the first four weeks.
"I haven't watched their defence. Not a lick," said O'Shea, with a little grin. "I don't have time. I've got my own (bleep) to worry about."
Then let's talk about how it was when you played for him, Mike. People talked about you being the on-field brains of the operation, right?
"No. It was Orlondo (Argos Defensive Backs Coach Orlondo Steinauer, who was their Free Safety at the time).
Okay, let me try a different approach, Mike. It seemed that after a team was allowed to march for big yards in the middle of the field, the defence would change schemes as it got backed up. Is that true?
"I don't know."
Oh, come on. What is this? Is there some kind of code, like the one magicians have? Where you don't explain how the trick is done? Or is O'Shea just so canny that he doesn't want the Eskimos to think he can help dismantle their type of defence, one he played so well?
"No, I don't think they care about what I know," he laughed. "I think that they know that I barely know the kicking game."
I figured I could loosen the lid on the jar of O'Shea's vast storage of Stubler knowledge, just a bit, though. Enough to glean a few nuggets of inside information. So I persevered. Just what was it that made Stubler's Argo defences so successful? So popular with the players?
"Wherein lies his genius? Part of it was allowing players to make decisions. The other thing that was interesting was meeting as a group." (As opposed to splitting off into different sub-groups; linemen, linebackers, defensive backs.) Having that much time as a group led to a greater understanding of what everyone else was doing around them and how our (individual) play affected everybody else's. Part of the deal that made him good with us, was he gave us ownership. He gave us direction but, as we progressed he gave us the freedom to do a lot of things.
But that still doesn't give us any pointed details on just what makes Stubler's defences tick. I'd always heard it was an exceptionally difficult concept to master. Difficult to execute. Why?
"He kept football simple."
Come again? You're shattering a myth, Mike. (or as I like to call him, "Coash." It's a hybrid of the word coach and his nickname, "Osh." Feel free to use it.
"The defence we played could be as intricate as we wanted to make it. But the basic principles, the basic idea of it… sure it's tough to learn for a newcomer, I think… but once we got a handle on it, as a veteran group, we could just keep on expanding it as far and as fast as we could take it. For a coach to let us do that, facilitate that… I think therein lies what made him different."
O'Shea was able to sum up the apparent paradox of Stubler's simple/complicated scheming, by using a vivid memory he has of a particular game.
"I just remember there was one game where we were in the same defence like forty plays in a row. But it looked different every time. It can be different every time. The defence allowed you to go in so many different directions (as far as sets go) so it looks like different defences all the time."
I'm getting this. Sort of. Simple, but elaborate. Like a Jackson Pollock painting. Maybe that's what it is.  Rich Stubler is not a defensive coordinator, he's an artistic director.
"Is it art? Well, I would suggest with the DB's we had, if I could've just turned around and watched them, it would have been like watching art in the making. When you've got a free safety like Steiny who can run it back there and make sure guys are in the right spot and he knows exactly what offences are doing… he can think the way the offences are thinking… I mean, he ran it."
And with that, I'd been schooled in the, uh,  intricate generalities, I guess, of Rich Stubler's confounding concoction. I must have had a somewhat flummoxed tone in my voice because O'Shea then said:
"I'm available for more, but, you sound like you're at the end of your rope."
Not at all, Mike. Just staring at that Pollock painting and trying to connect the dots.
THE EXTRA POINT
When he arrived as an Argo rookie in 2007, running back Andre Durie was part of the scout teams that mimicked opponents' offensive tendencies during practices. So, he faced Stubler's defence there. Will that kind of experience help him when the Argos play the Eskimos Friday night?
"Yeah, I think so. I worked with coach Stubler a lot, to see different things in my game, to be effective against defences. I got a chance to see that defence and see what kind of stuff I could do to exploit it. So, I think it's gonna work really well in Edmonton."
[box border="full"]To see the previous "Bloggernaut," click here.[/box]
[box border="full"]To see the next "Bloggernaut," click here. [/box]