[box border="full"]NOTE: TO SEE THE POSTING AT CFL.CA, CLICK  HERE, OR ON THE PICTURE BELOW.[/box]
Michael Fletcher, All-Time Argo and Grey Cup Champion, has regrets.
Odd that when I asked him what immediately comes to mind when I say the phrase "your Argonaut career," he doesn't talk about that Championship team of 2004, or being named  one of the greatest linebackers in team history. No particular spectacular play, no triumphant moment. Instead, he talks about regret.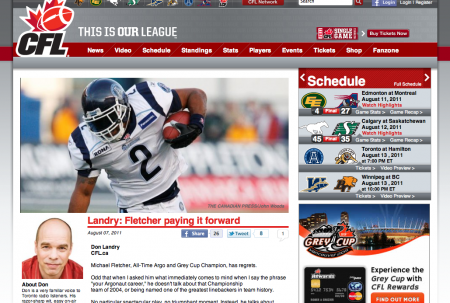 "Maybe I'm different than most people but I think about the missed opportunities. If I had a mulligan I'd like to do the 2007 Eastern Final over again" (The Argos lost to the Winnipeg Blue Bombers, 19 – 9). "Oh, God, that right there… we had the opportunity to play in a Grey Cup at home. Not capitalizing on that moment doesn't scar my Argo career, but… you just wish you had some of those moments back."
Fletcher returned to the scene of that disappointment this past week, a guest of the team he still follows, in a city he still loves. We talked, prior to Thursday night's game  between the Argos and Montreal Alouettes.
A coach and substitute teacher at his alma mater, Paramount High School, in Southern California, Fletcher reflected on that one big regret. But also on football, family, and hamburgers. Yes, hamburgers. More on that a little later. But first, let's catch up with the Argo great and his real life "Friday Night Lights" existence.
Fletcher is about to enter his second season as Assistant Head Coach at Paramount (the Pirates went 5 and 5 last season), located between Long Beach and Compton, Fletcher's home town. It's a big, big school, with some 5,000 students in what he terms a "blue collar city."
"I really thought I wanted to be a college coach, but, I'm really loving the high school scene right now," said Fletcher. "I get to go to school and I get to coach for a couple of hours, so, that's pretty good for me."
The hours help him balance his life pretty well, allowing him to spend time pursuing his Masters in Education and his teaching credential in English. As well, Fletcher has a young family he loves to spend time with. His wife and high school sweetheart, Brandi, was Head Cheerleader and Fletcher was the starting Quarterback, at Paramount. "The all-American story," he chuckled. With daughters Ryan, 11, Reese, 3, and Reagan, 18 months, Fletcher counts himself as blessed.
"I'm surrounded by four beautiful ladies every time I go home. Even our pet dogs are girls. I'm a lucky guy. And I have almost 200 sons at school I get to go to almost every day and coach (or teach)."
Although he prefers the lifestyle of a high school coach, Fletcher does cast the occasional glance toward the league in which he starred. It's because he believes a CFL coach's lifestyle, more than that of an NFL or college coach, suits his goal of staying in football while spending quality time with family.
"Like, a CFL job is perfect. In the NFL or college you've got a lot of guys who meet just to meet, for some odd reason. There's only so much film you can watch. I think some people make it more difficult than it is."
Pursuit seems to be a big part of Michael Fletcher's life. Whether it was the relentless pursuit of ball carriers during his pro career, or his pursuit of education and coaching excellence now, you can say he most certainly has the motivational gene. Both in the sense of his ability to be motivated and to motivate others. When it comes to those in his charge, he sees plenty of similarities between coaching football and teaching english.
"Coaching is teaching. (in both) You've got to find out what fits each student, how to motivate each student. It's kind of the same mentality in a sense. That's a challenge for me as a teacher, a coach. To find out how to get the most out of them and then you teach or coach from there. You get them for 52 minutes a day, 5 days a week, to try to get the most out of them. It's a challenge I enjoy."
He expresses satisfaction in connecting with kids and helping propel them forward. Especially rewarding for him is helping to raise the game of gifted athletes to an even higher level.
"I like to help make the best players become even better, and then they share that knowledge with other people."
While we chat, Fletcher's 2004 Grey Cup ring rests on the table in front of us, not perched on his finger. He's very proud of the accomplishment, but not keen on flaunting it.
"I'm not a big jewellery guy. For the young men I coach, if they ask me to bring it in I bring it. They love seeing things like that and it does spark some guys."
Fletcher keeps tabs on his old team, as he does pretty much every Toronto team. He mentioned that the Blue Jays blew a chance to climb into 3rd in the A.L. East earlier in the day, and said he follows the Raptors, in part , because a fellow Compton native, DeMar DeRozan, plays for them. As for the Argos?
"Typical Argo story. Start off slow. But they always seem to wake up on Labour Day for some odd reason."
What's the trouble this season?
"Not scoring enough points, it seems like. I just look at two stats. Points against and turnovers. And you know what's going on."
As for the city, itself?
"I miss it. It's a part of me. It's a piece of me that will never leave. I have had nothing but positive experiences here, on and off the field. I've met people who are friends and colleagues for life."
All – time friends for the All – Time Argo.
THE EXTRA POINT
In his playing days, crunching tackles weren't all Fletcher was known for. He was also known for munching hamburgers, right before a game. Along with teammate Clifford Ivory, they could occasionally be seen sitting in the stands, half-dressed in their football uniforms, enjoying a burger from the dome's now-defunct Hard Rock Cafe.
"Once my career was done I guess they closed the Hard Rock down. I kept them in business."
Well, you need to fuel up for a big game, that's true. What raised eyebrows was the fact that they downed the burgers so close to the time they were needed to take the field.
"When I'd come in from warm-ups I'd eat 20, maybe 25 minutes before kick off."
Maybe you should bring a tray of hamburgers into your high school team's locker room just before game time, Michael. Worked for you….
"They'll eat anything. We do feed 'em before the game. Not that close to kick off because… I wouldn't recommend it for people with weak stomachs."
[box border="full"]To see the previous "BLOGGERNAUT," click here. [/box]