NOTE: TO SEE THIS POSTING AT ARGONAUTS.CA, CLICK HERE, OR ON THE PHOTO BELOW.
A third of the way into the season, the disappointment is etched in the faces of the players and the coaches. But, there is time for the Toronto Argonauts to reverse the course of 5 straight losses and begin a push towards a playoff spot. The good news is that a win in Hamilton would close them to within 2 points of their arch-rivals. It might even give them a leg up on a possible crossover playoff position, depending on the outcomes of the Lions' and Roughriders' games.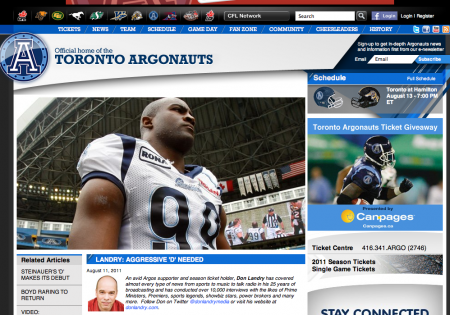 Far from feeling helpless and hard done by, the Argos seem intent on making a turnaround. The mood at Wednesday's practice seemed upbeat, the executions crisp. As an added bonus, injured linebacker Jason Pottinger suited up. Maybe that added to the bouncy mood. Could he return to bolster the defence much sooner than was thought? It'll be a few weeks, yet, but the original prognosis was that he was done for the season. At the very least, his presence might serve as a touchstone that quick turnarounds are possible.
That's what the Argo defence needs. Allowing 407 yards of offence a game, the Argos rank last in the CFL. The top-ranked Winnipeg Blue Bombers give up, on average, almost 120 fewer yards per game.
New Defensive Coordinator Orlondo Steinauer has his work cut out for him, but it's not a grim task. Even with injuries, the Argo defence has shown a considerable depth in talent, with no shortage, it seems, of big-play abilities. Steinauer's challenge, then, is to move the pieces around a little, and afford them the opportunity to be in the position to make the game-changing plays. It's the type of defence Steinauer played so well. Would it be to anyone's surprise if he implemented that approach as a coach? A more aggressive Argo defence is possible and some would say, needed.
By way of example, in two losses to Montreal this season, the Argos basically hung back on defence, rushing 3 players much of the time while an extra defender dropped into pass coverage. Anthony Calvillo racked up 656 total passing yards in those two games while running back Brandon Whitaker cruised for 270 along the ground. That type of lay-back philosophy has allowed opposing quarterbacks ample time to survey and exploit. So far this season, the Argo defence has allowed a pass completion rate of 72%. That's far too high. Can it be dealt with?
It can, with more aggressive coverage schemes and, especially, more aggressive rush schemes. A front four of Ricky Foley, Ronald Flemons, Claude Wroten and Kevin Huntley has the potential to be oh so damaging to an opponents' passing game. Keeping Foley on the line with the other three might provide the Argo defence with one of the league's more formidable sack attacks. Throw in the odd blitzing linebacker or defensive back and the Argo D may well have its answer. Short of sacks, an aggressive pass rush might at least force opposing quarterbacks to make quicker, possibly ill-advised decisions. And defensive backs love ill-advised quarterback decisions.
This type of defensive philosophy has its risks, of course. But the Argo defence does seem well-stocked with players who could make it work. Having said that, don't expect all blitzes, all the time. That would mean too much man to man coverage in the secondary for Head Coach Jim Barker's liking. He believes, as do many coaches, that excessive amounts of man to man coverage can burn out a defensive secondary quickly.
On offence, Cory Boyd's return against Hamilton could provide the offence with the elixir it needs. He was last year's Argonaut MVP and there's good reason for that. His battering ram running may provide the offence with one of the most cherished of CFL commodities: Manageable second down yardage. Six or seven yard gains on first down make life infinitely more enjoyable for quarterbacks and offensive coordinators alike.
THE EXTRA POINT
Sometimes you're the windshield, sometimes you're the bug. I asked Argonaut receiver Jermaine Copeland if he'd ever heard that saying.
"No, but I get it. Better to be the windshield than the bug, because of the splatter part."
Exactly. It's a philosophical thing, really. Some people believe a bug can , through no fault of its own, find it's way on to that windshield. It's just fate. Others believe the bug authored its own demise, it's mistakes leading it, eventually, to that windshield and an unsavoury demise.
With the Argos this year, they've had more than their fair share of "bug" moments. Some of their own design (fumbles, penalties, missed opportunities) some that were beyond their control (injuries, an oddball clock moment in Edmonton).
You can't do much about the fickle finger of fate stuff. But you can diminish the number of your mistakes.
"That's what we need to do," Copeland told me after practice, this week. As a veteran, he knows this. What he hadn't known, before this season, was the feeling of being on a 1 and 5 team. He's never suffered that in his entire CFL career. Beyond, actually.
"I've never faced this my entire life. I've never been one and five, and I've been playing football since I was 5 years old. I don't like it. I hate it. But on the positive side I know there's definitely a turnaround waiting. A few tipped balls here and there, a few plays turned the other way… all of a sudden we're on the victorious side of things."
He's hoping to lead the Argos out of that wilderness, beginning this weekend.
[box border="full"]To see the previous "BLOGGERNAUT," click here.[/box]