Podcast: Play in new window | Download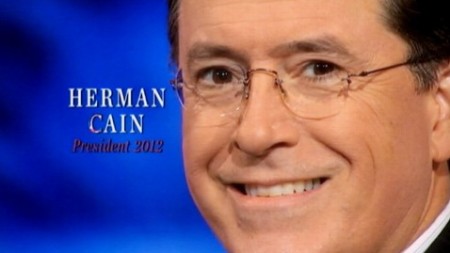 Stephen Colbert mocking Herman Cain. Would Tim Thomas have visited HIM if he were president?
This week's episode of The Gist Of It could be titled "Goalies And Mayors Behaving Badly." Bill Hayes and Don Landry discuss Boston Bruins' goalie Tim Thomas and his choice to skip a trip to the White House. As well, Toronto Mayor Rob Ford's decision to compare left-leaning councillors to Joseph Stalin. Which was the poorer decision? The guys also kick around Oscar's nominees, The NFL's playoff goats and whether Stephen Colbert is constructively or destructively making a mockery of the U.S. political system. Prince Fielder's payday, the NHL ALL-Star Game and improving Toronto's street meat are also included in this tasty and tempting episode of TGOI.
Segment 1 – Don tries to figure out Tim Thomas' motivations. Thinks that whatever they were, he blew it. Does Bill agree?
Segment 2 – Bill cautions that the seemingly idyllic life of a multi-millionaire athlete may not be all it's cracked up to be. Don says he'd like to take that risk.
Segment 3 – Toronto Mayor Rob Ford evokes the memory of a mass murderer to slam his political opponents. This might be fairly insulting if it weren't so damn funny.
Segment 4 – Some critics think Stephen Colbert's send-up of the Super PAC fundraising system is very funny. Others believe it's damaging and a step or two over the line. Is Colbert a force for positive change? Or a self-promoting annoyance?
Segment 5 – Prince Fielder gets his cash. Why aren't the Jays spending more? NFL playoff goats: Fair or foul? And the NHL's All-Star Game. Are those stars dimming?
Segment 6 – The Oscar race. Bill LOVES Meryl Streep. Don, umm, doesn't. They make a few picks and Don slams "Moneyball." Oh, and wants to know why an ape wasn't nominated.
Segment 7 – Bill thinks Toronto's street meat industry needs an injection of creativity. And, surprisingly, lets it slip that a place he really wants to visit is Portland. Whaaaa?